Volume 2.4-2.5, April and May 1996 Double Issue
AFICAN LIBERATION DAY



34th Annual Celebration of ALD
The Organization Us, The Brotherhood Crusade, The Nation of Islam and the Local Organizing Committee of the Million Man March/Day of Absence, LA will co-host the 34th Annual Commemoration of African Liberation Day. This year's theme is "The Unfinished Business of Struggle: Pan-Africanism, Kwame Toure and Human Rights". The celebration will be held on Monday, May 27 from 6:00 - 9:00pm at the African American Cultural Center, 2560 W. 54th Street in Los Angeles.
In the spirit of Pan-Africanism, the annual celebration will bring together a broad spectrum of organizations and committed persons from the world African community in the struggle to unite all Africans everywhere around common interests and to make the African presence on the world stage both permanent and powerful.
Invited speakers include: Mr. Charles Anyiam, The African Times Newspaper; Ms. Assumpta Acam-Oturu, KPFK Radio; Mr. Danny Bakewell, The Brotherhood Crusade; Mr. James Burkes, William Grant Still Arts Center; Rev. Xavier Carter, Revived Faith Community Church; Ms. Meda Chamberlain, National Council of Negro Women; Ms. Serwaah Gyamfi, Esq., Black Law Institute; Mr. Tommy Jacquette Halifu, Watts Summer Festival; Dr. Maulana Karenga, Organization Us; Mr. Karl Kemp, Ptahhotep Grand Nubians and Queens of Imani; Ms. Salimisha Logan, Political Action Committee, Local Organizing Committee of the Million Man March Day of Absence, LA; Min. Tony Muhammad, Nation of Islam; Rev. Roy S. Pettit, Black Agenda; Prof. Amen Rahh, CSU Long Beach; Ms. Nzingha Ratibisha, Association for the Study of classical African Civilizations; Mr. Kwame Welsh, Republic of New Africa; Ms. Daima White, Community activist; Mr. Kwaku Duren, New African American Vanguard Movement; Representatives from the All African Peoples Revolutionary Party; Association of Black Psychologists; Association of Black Social Workers; Black Women's Network, Malcolm X Grass Roots Movement; NAACP; SCLC; United Young Ethiopians in LA; Urban League; Recycling Black Dollars and others.
African Liberation Day (ALD) was established at the Addis Ababa Conference of the Organization of African Unity (OAU) in 1962. It was decided that the celebration should include mass demonstrations of solidarity, collection of monies to aid liberation struggles, speeches and statements of solidarity and collective planning for ever higher levels of awareness, unity and struggle.
Continuing the tradition, the Organization Us established African Liberation Day in Los Angeles as a time for celebration, organization and solidarity among all African peoples, those in the diaspora and those on the continent.
This year's theme is specifically to honor Kwame Toure, the leading spokesperson for Pan-Africanism in the U.S. and to stress the unfinished business of unity, struggle and human rights.
In addition to the statements of solidarity and collective planning, the program will also include cultural expressions by artists Ms. Preshenda Jackson (poetry), Mr. Kweli Jabari (songs) and Ms. Khadeejah Farabi-Nance (poetry).
News of the World African Community
Bamako, Mali--The people of Mali, who bear the name of one of Africa's most illustrious civilizations, are making history again as an emerging democracy, moving steadily from a single-party dictatorship to a multiparty system. Mali held free elections in 1992 and have been developing well since. Mali's eight million inhabitants are providing an important model of African domestic and foreign policy by: 1) establishing a multiparty system; 2) cultivating a free press which boasts 20 newspapers after decades of state monopoly; 3) ending a five-year conflict with Tuareg rebels, integrating the refugees and reducing fire arms in the country with a burning called "the flames of peace;" 4) outlawing capital punishment; 5) criticizing human rights violations in Nigeria; 6) making economic reforms that are producing a six percent annual growth rate in one of the world's poorest countries; and 7) committing itself to an openness and rule of law necessary to cultivate and consolidate a genuine democracy. Much of the credit for these developments belongs to President Alpha Oumar Konare. President Konare, who won election in 1992, stressing the importance of a democratic society, noted recently that dictatorship hurts the people and the country and undermines their future. In a word, he said "The logic of 'shut up and obey' gives immediate results, but offers no tomorrow."
Asmara, Eritrea--Five years after winning their war of independence from Ethiopia, the Eritrean people are rebuilding their country with an impressive show of determination and self-sacrifice so essential in the war. The capital, Asmara, reflects this dedication to rebuilding with its clean and well-lit streets in which there are bustling crowds and no beggars or prostitutes in sight as well as none of the street crime that marks many other societies. Offering a model of selfsacrifice and dedication to the people, President Isaias Afwerki and his entire government and the army have worked for years without regular salaries and instead, subsist on small monthly stipends.
With a population of only three million, Eritrea has turned inside to draw on the human resources of its own people. The government which has none of the corruption which marks many other societies, resists foreign aid, and limits international borrowing and the power of international relief agencies in the country. It has also created a national youth service to provide an alternative to foreign contractors and put teenagers to work alongside demobilized troops to build roads and engage in other public work projects. Likewise, it has called many skilled workers in their 70's out of retirement to rebuild railroads and engines they originally built.
Several challenges, however, still face Eritrea: 1) protection of personal freedoms in a highly organized society; 2) the respect for dissidents and diversity and the cultivation of the emergence of a multiparty system in a context where the party of independence, the People's Front for Democracy and Justice, is clearly unchallenged; 3) cultivating of a free press as a hallmark of respect for dissent and diversity in a society with such a high degree of consensus; 4) maintaining the gains of equality and mutual respect between men and women established during the war by enshrining equality in law, outlawing gender discrimination, outlawing female circumcision, initiating government and community projects to educate against it, and retraining women for skilled and managerial positions in government and society at government expense; and 6) expanding the economy at a rapid rate in order to harness and develop the country's abundant natural resources and thus, provide the people with the ability.
Rites of Passage:
Coming Into Community
By Seba Chimbuko Tembo
The mother, Sadakisha, and the father, Majadi annoit the woman child, Taibu with palm oil to symbolize their wish for her to have a smooth passage thru life.
Rites of Passage are an ancient African tradition of marking the transition from one stage in life to the next: from non-being to birth (akika); from adolescence to adulthood (majando); from singleness to marriage (arusi); and from this life to joining the ancestors (maziko). They are designed to provide a collective form of marking and celebration for the benefit of both the person/s and the community.
Family, friends and the community participated in and celebrated a Kawaida Akika ceremony and a Kawaida Majando Recognition Ceremony at the African American Cultural Center on Sunday, 21 April. The Akika, officiated by Seba Dr. Maulana Karenga was held to bring an African child, Taibu Moyo Majadi into community, to reaffirm the commitment of her parents, A. Majadi and Sadikisha Majadi and to establish the collective responsibility of the whole community for Taibu's well-being, happiness and development. In the African worldview, parenthood is both specific and general, biological and social, so that all adults are general and social parents to all the children of the community.
During the Kawaida Akika ceremony seven symbols representing seven wishes are presented to the child by her parents: palm oil, that she may travel smoothly thru life; honey, that she may enjoy the sweetness of life; pepper, that she may be able to endure the discomfort and challenge of life; salt, that she may add seasoning to life, cola nuts, that she may prosper in life; a bracelet that she may join and never break the circle of family and nation life; and water, that she may have mountain-eroding strength and baby-washing gentleness, have no enemies and benefit all living things. Taibu Moyo Majadi are Swahili names which mean goodness, heart and seriousness respectively.
Wali (initiates) of the Senut Sisterhood (Us) Rites of Passage Program display Shahada (certificates of recognition) for completion of one year of study in the program.
The Majando Recognition Ceremony was held to recognize and support several young women ages 11 - 16 for their completion of one year of study in the Senut Sisterhood (Us) Rites of Passage Program. The ceremony was reinforcement to the young women to continue to grow and develop. The purpose of the two-year Kawaida program, which is used in churches thru out Los Angeles and in numerous social and cultural institutions thru out the country, is to aid young African American males and females and their families in their efforts to become morally and culturally grounded, educationally capable and socially committed members of their community.
The Senut Sisterhood (Us) is a sisterhood of the world African community which has as its fundamental purpose sisterhood, community service, and social action. The name "Senut" is an ancient Egyptian word which means "sisterhood" and which reflects a commitment to using the best of ancient traditions to build our lives today and to the commitment to build principled relationships and support structures with the women of our community.
Statement of Solidarity
with the Mexican Community -- Position Statements
On behalf of my organization Us and African people, we come to stand in solidarity with the Mexican community in the struggle against the recent brutal police beating of the Mexican immigrants that reminds us so much of the Rodney King case, and we come to reaffirm the ongoing battle both our communities are waging to end such savagery and the societal injustice which gives rise to it and supports it. [More]
Liberation Ethics of Malcolm X
By Dr. Maulana Karenga
Malcolm's ethical project is essentially a project of liberation, a struggle which is both a process and promise of human freedom and fulfillment in history. As he related to Essien-Udom in his early days, in the Nation of Islam, "heaven and hell are conditions reflecting one's moral and material conditions here on earth". Islam for Malcolm, then, is preeminently a religion of social and historical practice directed toward human freedom and fulfillment on earth and in history. "No one's mind should be in the sky," Malcolm states. "In Islam everyone works. Heaven demands hard work." Moreover, he continues, in Islam, "there is no room for laziness and no room for ignorance." In the context of this earth-based and human-focused religion, Malcolm's ethical project has three basic dimensions to it, then: an intellectual, spiritual and practical one. The first dimension is one of coming-into-consciousness which is a struggle against both ignorance and illusion and an acquisition of self-knowledge which includes knowledge of God, self and the oppressor. Secondly, there is the spiritual dimension of cleansing oneself of vices which erodes and undermines one's claim to worthiness for membership in the community of righteousness. And finally, Malcolm's ethical project involves a demand and duty of liberational practice, a personal and social struggle to truly transform oneself and society. Again, these three thrusts are summed up in his call to the people to "wake up, clean up and stand up."
A. Coming-Into-Consciousness
The first step in Malcolm's ethical project is coming-into-consciousness, or as he expresses it, waking up to knowledge of self, God and the devil or oppressor. This waking up, Malcolm argues, precedes and makes possible the other two fundamental emancipatory steps in his ethical project which are to clean up and then, stand up. As Malcolm states, "When a man understands who he is, who God is, who the devil is ... then he can pick himself up out of the gutter, he can clean himself up and stand up like a man should before his God."
The centrality and priority of knowing truth, of coming-into-consciousness is deeply rooted in the three major sources of Malcolm's philosophical grounding. It is first of all deeply embedded in the nationalist tradition which has historically held that the beginning of all knowledge is self-knowledge and that as Garvey contended, a knowledge of one's enemy is a fundamental even an indispensable part of an emancipatory and effective education. Moreover, Muhammad, Malcolm's former mentor, taught that lack of knowledge of self, leads to all sorts of evil, including self-hatred, self-degradation and collaboration in one's own oppression. "We are the mighty, the wise, the best, but do not know it," Muhammad states. "Being without knowledge we disgrace ourselves, subjecting ourselves to suffering and shame." But when Blacks "are fully in knowledge of self," he teaches, "they will do righteousness and live in peace among themselves." Furthermore, self-knowledge also cultivates the desire and practice of unity and encourages one to "take on the virtue of learning."
In addition to Marcus Garvey and the Hon. Elijah Muhammad, orthodox Islam teaches the centrality of knowledge. In fact, Muhammad, in stressing the centrality of knowledge to ethical and religious practice, reminds his readers that the Quran emphasizes the need and value of learning and knowledge, stating that "whoever is granted wisdom, he indeed is given a great good"(2:269). Moreover, Hadith (tradition) relates that the Prophet Muhammad taught the manifold benefits of knowledge. One should "acquire knowledge," he taught. For "it enables the possessor to distinguish right from wrong; it lights the way to heaven; it guides us to happiness; it sustains us in misery; (and) it is a weapon against enemies and an ornament among friends."
B. Spiritual and Moral Recovery
Malcolm's ethical imperative of cleaning up is essentially one of making oneself a worthy member in the community of righteousness, able to stand upright without vice and shame before one's God. As he states, "the teaching of Islam seeks "to clean up our morals and (thus) qualify us to enter into this new righteous nation of God." Again, his stress on spiritual and moral cleanliness not only represents basic teachings of Islam, but also reflects a personal portrait of his passage from what he defined as the depths of depravity to the heights of spiritual awareness, discipline and commitment. Before hearing Islam, he recounts "I had nothing, knew nothing and was nothing. I was addicted to and enslaved by the evils and vices of this white civilization - dope, alcohol, adultery and even murder." Locked in at the bottom level of life, Malcolm saw himself as "buried up to his neck in the mud of this filthy world with very little hope, desire, or intention of amounting to anything." In fact, he was really at death's door "walking on my own coffin."
But as he recounts in his autobiography, Islam raised him up, made him a man among men, a knower among the knowledgeable, a devoted teacher and dedicated student, one respected and listened to, a fearless follower and a selfsacrificing soldier committed to liberation and a higher level of human life.
It is, Malcolm taught, evil and immoral thought and behavior that deform and destroy the human person, limits or denies his spiritual and social development and makes her unable to realize her full potential in both the divine and human sense. His concern with addictions: chemical, psychological or behavioral which destroy the human person and undermine the necessary struggle for liberation is pervasive and durable. Thus, he challenges the African to raise beyond her history of oppression, his current conditions of domination and submission, to seek truth, to do right and struggle for freedom, justice and human equality. And he teaches that in spite of conditions, "the Black man in the ghetto ... has to start self-correcting his own material, moral and spiritual defects and evils."
C. Personal and Social Struggle for Freedom
The moral challenge to stand up in Malcolm's liberation ethics can be critically discussed in three basic ways: 1) bearing witness to truth; 2) living the truth of a recovered and reconstructed self, and 3) struggling to achieve a context of human development which at a minimum is a context of freedom, justice and equality in the full human sense of each of these categories. Malcolm's teaching on standing up, like his other teachings, is both rooted in and reflective of his own personal recovery and reconstruction. His experience teaches him that standing up is essentially offering one's life and death as a "testimony of some social value", in a word, being willing to live and die as a mirror and martyr for liberation and a higher level of human life. He suggests at the end of his autobiography that in spite of the obvious threat to his life for teaching and standing up for truth and justice, he is compelled to continue. Thus, he states, "if I can die, having brought any light, having exposed any meaningful truth that will help...," end racism and bring freedom and justice, then, "all praise is due to Allah, only the mistakes are mine." This morality of self-sacrifice in the cause of a better society and world, deference and praise to God as the inspirer and sustainer in all good efforts and a humbleness about what one can do and has achieved, are at the core of Malcolm's ethical concept of standing up.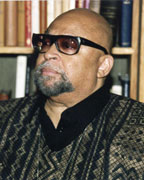 To stand upright is first to wake up and to develop one's own internal strength, thru self-knowledge. It is to learn to "see and hear" with one's own eyes and ears, to speak with one's own mouth and think with one's own mind. In a discussion with young civil rights workers from Mississippi, Malcolm tells them that "one of the first things I think young people, especially nowadays, should learn how to do is see for yourself and listen for yourself and think for yourself." He poses it as a special "burden" and challenge of history. But the social and personal for Malcolm are interlocked and it thus becomes at the same time a burden and challenge of personal development. This thinking for oneself cultivates a self-respect and courage indispensable to fulfilling one's mission as a mirror and willing martyr for human liberation. To stand upright here, then, is to stand in confidence and courage born of knowledge, knowledge of oneself in relationship to God and community and the possibilities inherent in these. And secondly, to stand upright is to stand in spiritual cleanliness, free from vices and rooted in virtues which elevate and strengthen. In a word, it is to hold to high moral standards in spite of being in a corrupt and corruptive world. And finally, it is to stand up in courage and cleanliness in practical struggle.
This is an excerpt from Seba Maulana Karenga's forthcoming book, The Social Ethical Thought of Malcolm X.
The Organization Us: Philosophy, Principles, Program
From the beginning, the essential task of our organization Us has been and remains to provide a philosophy, a set of principles and a program which inspire a personal and social practice that not only satisfies human need but transforms people in the process, making them selfconscious agents of their own life and liberation. Such a transformative practice will, of necessity, also lead to the building of moral community and to the constant becoming of the best of what it means to be both African and human in the fullest sense. [More]
Ongoing Programs of Us
Mary McLeod Bethune Institute
An independent educational institute for chidren ages 3 - 11 which sponsors a Saturday school program stressing cultural values, critical inquisitiveness, social responsibility, respect for human diversity and community service.
Kawaida Institute of Pan-African Studies
Annual national summer Institute on Leadership for Social Change which teaches critical thinking skills from an Afrocentric perspective and leadership training.
Rites of Passage Program
Collective instruction and support to aid young women and men in becoming morally and culturally grounded, educationally capable and socially committed.
Senut and Senu Societies
A Sisterhood and Brotherhood of the World African Community which is dedicated to brotherhood and sisterhood, community service, social action and study.
Mateka Support Program
Provides books, lectures, correspondence and counselling to prisoners.
Soul Sessions
Weekly lecture/discussion series by local, national and international speakers on critical issues.
Black and World News Forum
Weekly alternative analysis of the local, national and international news from an Afrocentric perspective.
Timbuktu Book Circle
An engaging and informative reading and discussion of major and minor works in African American literature.
Swahili Language and Culture Class
Instruction in the most widely spoken African language in Africa and the national language of African Americans.
Also available:
Groups tours of the Cultural Center
Ancient Egyptian Studies Library
African American Studies Library
African Marketplace and Gift Shop
At The Center - Selected Audio Tapes Available
---

April Soul Sessions

---

April 7
Sunday
3:00pm
"The Art of John Biggers: View From the Upper Room"
Join our Organization, Us on a guided tour of the 127-work restrospective of one of our greatest African American artists, John Biggers at the California Afro-American Museum.
April 14
Sunday
3:00pm
"Race, Sex and Class Lessons: O.J., Police Misconduct and Multi-Ethnic Relations"
Dr. Earl Ofari-Hutchinson, author,
The Myth of Black Capitalism and Assassination of the Black Male Image.
April 21
Sunday
12:30pm
An Akika Ceremony - to bring an African child, Taibu Moyo Majadi into community.
Parents: A. Majadi and Sadikisha Majadi
Officiant: Seba Dr. Maulana Karenga
April 21
Sunday
3:00pm
A Majando Recognition Ceremony
for completion of one year of study in the Rites of Passage Program for young women sponsored by the Senut Sisterhood.
April 28
Sunday
3:00pm
"Black-Brown Relations: Concerns, Conflict & the Search for Common Ground"
Dr. Maulana Karenga, Professor and chair, Dept. of Black Studies, CSULB; chair, The Organization Us; author, Introduction to Black Studies.
---

May Soul Sessions

---

May 5
Sunday
3:00pm
Paying Homage to Malcolm: Across Generations
Poetry, art, music, readings in honor of Min. Malcolm X.
May 12
Sunday
3:00pm
In honor of Mother's Day we will not hold our regular Soul Session today, so that each and all of us might do something special for and with our mothers.
May 18
Sunday
12:30pm
MMBI Saturday School
"Min. Malcolm's Message: Thinking, Listening and Speaking for Yourself."
May 19
Sunday
3:00pm
"Malcolm in the Midst of Fire & Water:
Lessons of Self-determination, Service and Sacrifice"
Dr. Maulana Karenga, Professor and Chair, Department of Black Studies, CSULB; chair, Us; author, Introduction To Black Studies.
May 26
Sunday
We will not hold our regular Soul Session.
Please join Us tommorrow for ALD.




AFRICAN LIBERATION DAY

Monday, 27 May 1996, 6:00pm

"The Unfinish Business of Struggle
Pan-Africanism, Kwame Toure and Human Rights"
Speakers from the world African community

---
Selected Audio Tapes Available

For more information on the Organization Us
and the African American Cultural Center,
please call (323) 299-6124.