---
NEWS AND ACTIVITIES FOR THE ORGANIZATION Us
---
Volume 1.1, October 1995
Us's 30th Anniversary Offers Models of Achievement



Us' 30th Anniversary Offers Models of Achievement
The Organization Us assembled an impressive array of scholars, activists and general participants to celebrate its 30th Anniversary at the Los Angeles Airport Hilton Hotel, September 8 -10. Among those in attendance where some of the most critical minds in the country including: Dr. Molefi Asante, Dr. Clay Carson, Dr. Maulana Karenga, Dr. La Francis Rodgers-Rose, Dr. Julianne Malveaux, Dr. Haki Madhubuti, Dr. Neil Painter, Dr. Sonia Sanchez, and Dr. Cornel West This historic gathering of women and men from every region of the country reaffirmed the respect held for Us for its 30 years of "service, struggle and institution-building" in and for the African American community.

Us' contributions include the Nguzo Saba, Kwanzaa, Rites of Passage Programs, independent schools, cooperatives based on the principle of Ujamaa, the concept of "operational unity", founding membership roles in the National Black Power Conferences, the National Black United Front, the National African American Leadership Summit and the National Organizing Committee of the Million Man March. Locally, Us was also a founding member of the Brotherhood Crusade, co- planned and named the Ujima Housing Project and was a co-planner for the Watts Health Foundation and Kedren Community Mental Health Center.

The three-day celebration opened with a vigorous exchange regarding the participation of women in the Million Man March and the Day of Absence during the Kawaida Seminar in Social Theory and Practice conducted by Dr. Maulana Karenga, professor and chair, of the Department of Black Studies, CSULB Dr Karenga, a member of the national executive committee for the march argued that, "priority must be given to men without the exclusion of women. The priority of the march is on Black men because until Black men stand up, Black men and women cannot stand together."

Dr Karenga went on to stress that "the march does not stand alone it is linked to the Day of Absence. Taken together they represent a cooperative project, a partnership of women and men, and women must meaningfully participate in the Day of Absence thru mobilizing, organizing, planning and conducting teach-ins demonstrations and rallies in concert with and support of the march."

The second part of the celebration was an Awards Luncheon which featured the distinguished poets Mari Evans, Haki Madhubuti and Sonia Sanchez who read and provided commentary on their poetry from the 60's and their current works In addition, Us presented awards to several Black community organizations, institutions and individuals for excellence in their fields and committed service to African people Included among the honorees were Dr Evans, Mr Madhubuti Dr. Sanchez and Dr. Roy Garrott who received the Alain Locke Award for Excellence in Literature; Dr Molefi Asante, founder of Afrocentric theory, the Carter G Woodson Award for Excellence in Education; Dr. La Francis Rodgers-Rose and Seba Chimbuko Tembo the Fannie Lou Hamer Award for Excellence in Leadership and Senvice; Ms Lela Ward-Oliver, the Ida B Wells Award for Excellence in Journalism and Ms Kusudika Talibi, the Paul Robeson Award for Excellence in the Dramatic Arts.
Beginning on Saturday morning and ending on Sunday at noon, the Conference on Critical issues rounded out the three-day celebration with round tables at which presenters offered models of excellence in their various fields of family and male relations economics, politics, the arts, education and the media.
Dr. La Francis Rodgers-Rose brought her successful experience in counselling on male\female relations; Dr. Conrad Worrill in organization of the National Black United Front and the Harold Washington campaign; Mr. Haki Madhubuti as publisher of Third World Press; Dr. Kay Lovelace as director of an Afrocentric training program for Detroit Public Schools; Ms Subira Kifano as director of the independent school, the Mary McLeod Bethune institute; Dr Molefi Asante as the organizer of the first Ph D program in Africana Studies; Dr. Kariamu Welsh- Asante as organizer of an independent dance troupe and originator of an Afrocentric dance style; and Prof Amen Rahh as teacher organizer and board member of the Compton Unified School District.
The conference ended Sunday at the African American Cultural Center with a round table discussion on Spirituality and Ethics Reflecting the religious diversity of the community, the round table was organized around readings and commentaries from various sacred texts directed towards addressing critical current issues Dr Joyce Johnson of Henry McNeil Turner AME read from and commented on passages from the Bible; Min Charles X of the Nation of Islam from the Quran; Babalosha Yewande of the Lecumi Tradition from the Ifa (Yoruba) Texts; and Seba Dr. Maulana Karenga of the Temple of Kawaida (Maat) from the Husia, the sacred texts from ancient Egypt.
Dr Karenga closed the conference with a stress on the need for continued struggle, service and institution-building He urged the participants to "remember the ancient Egyptian teaching that we are not simply in history, we are history" Quoting from the Husia he said, "we must remember that everyday is a donation to eternity and even one hour is a contribution to the future."
---
Asante sana (thanks very much) to all of our volunteers, supporters and sponsors for helping to make our 30th Anniversary Seminar, Luncheon and Conference so successful!
---
The Significance of the Million Man March
By Dr. Maulana Karenga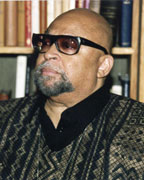 The Million Man March, forming a joint project with its companion Day of Absence, speaks to who we are, where we stand and what we are compelled to do in this hour of meeting and posing challenges Its significance lies in the fact that:
It is a timely and necessary statement and challenge both to ourselves and the country in a time of rising racism, attacks on hard won gains, and continually deteriorating conditions for the poor and vulnerable and thus an urgent time for transformative and progressive leadership.
It is a declaration of the resolve of Black men in particular and the Black community in general to mobilize and struggle to maintain hard won gains, resist evil and wrong wherever we find it and to continue to push our lives and history forward.
It is a reaffirmation of our self-understanding as a people that we are our own liberators, that no matter how numerous or sincere our allies the greatest burdens to be borne and sacrifices to be made for liberation are essentially ours.
It is a significant way to refocus and expand discussion on critical issues confronting our people, this country and the world and put forth our positions on them.
It is both an example and encouragement of "operational unity": unity in diversity, unity without uniformity, and unity in principle and in practice for the greater good.
It is a galvanizing and mobilizing process to raise consciousness cultivate community and lay the groundwork for increased positive social, political and economic activity.
And finally, it is a necessary continuation of our ancient and living moral tradition of speaking truth to power and seeking power for the vulnerable, justice for the injured right for the wronged and liberation for the oppressed.
---
Dr. Maulana Karenga is professor and chair of the Department of Black Studies, CSULB; chairman of Us; and member of the National Executive Committee for the Million Man March.
---
THE DAY OF ABSENCE
We call on those who do not come to Washington, especially Black women, to mobilize and organize the community for the Day of Absence in support of the Million Man March and its goals The Day of Absence, October 16, is a parallel activity to the Million Man March and a component part of one joint and cooperative project: the standing up and assumption of responsibility by the Black man in particular and the Black community in general.
Women are in the leadership of the Day of Absence without exclusion of men, as men are in the leadership of the Million Man March without exclusion of women and both activities are equally essential.
The Day of Absence is a sacred day, a holy day, a day of atonement, reconciliation and responsibility it thus has activities to reflect this To observe this sacred day, we call on all Black people to stay away from work, from school, from businesses, and from places of entertainment and sports and to turn inward and focus on the themes of atonement, reconciliation and responsibility in our lives and struggle.
We call on those who choose prayer and meditation as essential ways of observation to do this in groups of family and friends at home or in larger groups at mosques, churches, synagogues, temples and other places of worship.
Also, we call for teach-ins at homes and in community gatherings on: a) the meaning of this day and the juncture of history at which we are as a people: b) the meaning of the Million Man March and its goals; c) the importance and requirements of our struggle for liberation and justice d) the indispensability of spiritual and ethical grounding in our struggle; and e) the glory and burdens of our history as fathers and mothers of human civilization; sons and daughters of the Holocaust of African Enslavement and authors and heirs of the reaffirmation of our Africanness and commitment to liberation in the 60's Also, we call on this day for massive voter registration and for all to contribute to building a Black Economic Development Fund.
BUILDING SISTERHOOD:
The Senut Society
The Senut Society, an auxiliary of the Organization Us is a sisterhood of the world African community. The name "Senut" is an ancient Egyptian word meaning "sisterhood" and was chosen to reflect our commitment to using the best of our ancient traditions as the foundation on which to build our lives today it also reflects our commitment to building principled relationships and Support structures with each other and the women of our community.
Our central focus is sisterhood, service and social action Building on the rich legacy of historical Black women's organizations like those of the Women's Club Movement of the early 1900's, we are engaged in 1) monthly sisterhood - building activities; 2) reading and discussions around critical issues which affect our lives; 3) community service projects such as collection of food, clothing, and supplies for the needy; 4) a Rites of Passage program for young women, ages 11-16: and 5) social action around issues concerning African women and the African community.
Our sisterhood-building activities provide a context for personal development and mutually beneficial friendships based on the highest cultural and ethical values such as the Nguzo Saba (the Seven Principles), the Seven Cardinal Virtues of Maat, and other life enhancing values.
Thru our sisterhood, we strive to restore, preserve and promote cultural and ethical values which are essential to the development of African womanhood, sisterhood, male\female relations and peoplehood. We also strive to serve as self-conscious models of African womanhood for each other, our present community and future generations.
LANGUAGE & CULTURE
Modern Language: Swahili
"Kujikwaa si kuanguka, bali ni kwenda mbele."
(To stumble is not to fall, but to move forward.)

Classical Language: Ancient Egyptian (Medu Neter)


AT THE CENTER
Events/Activities
October 1
Sunday
3:00pm
"Never Turn Back: The Life of Ms. Fannie Lou Hamer", movie and discussion of a key figure in the Black Freedom Movement and her struggle to win power for her people.
October 8
Sunday
2:00pm
"An Afternoon of Elegance'' - fundraiser sponsored by Women in Support of the Million Man March - 4339 Degnan Ave.
October 14
Saturday
12:30pm
The Mary McLeod Bethune Institute Saturday School
"Children in Support of the Million Man March"
October 14
Saturday
3:00pm
The Day of Absence & The Million Man March: A Teach-In (Part 1)
October 16
Monday
3:00pm
The Day of Absence & The Million Man March: A Teach-In (Part 2)
October 22
Sunday
3:00pm
"The Million Man March &AMP The Day of Absence: A Report From The Center"
Presenters: Dr. Maulana Karenga, Professor and Chair, Dept of Black Studies, CSULB: chair, Us: author, Introduction To Black Studies Ms. Subira Kifano, Language Development Advisor, LAUSD; co-vice chair, Us.
October 29
Sunday
3:00pm
"Report From Puerto Rico" - Slide presentation and commentary
Presenter: Mr. Mpinduzi Khuthaza, chair, Organization &AMP Alliance, Us.



Weekly Events
Wednesdays
2nd & 4th
7:00pm
Timbuktu Book Circle
Facilitator: Dr Roy Garrott
Fridays
7:30pm
Black & World News Forum
Facilitator: Dr Maulana Karenga
Saturdays
10:00am
Swahili Language & Culture
Instructor: Prof. Muaka Angaluki
Saturdays
10:00am
Rites of Passage Program
Young women, ages 11-16
Sundays
3:00pm
Soul Sessions
See events/activities for details


Special Event
Saturday
October 7
5:00pm
Lecturer: Ms. Ramona Afrika
Member of Philadelphia's M.O.V.E organization and supporter of political prisoner Mumia Abu-Jamal.
Sponsored by: The Coalition to Stop the Lynching of Mumia Abu-Jamal.
---
Selected Audio Tapes Available

For more information on the Organization Us
and the African American Cultural Center,
please call (213) 299-6124.